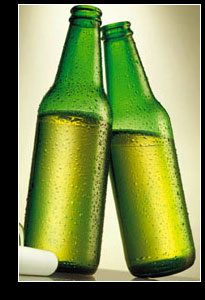 My top 10 personal favorites:
1. Hoegaarden Original White Ale (Belgium)
2. Erdinger Weibier Kristallklar (Germany)
3. Kilkenny Irish Cream Ale (Ireland)
4. Sapporo Draft (Japan)
5. Sternen Weizentrumpf (Switzerland)
6. Asahi Super Dry (Japan)
7. Qingdao Tsingtao Premium (China)
8. Heineken Lager Beer (Netherlands)
9. Tiger Lager Beer (Singapore)
10. San Miguel Dark Lager (Philippines)
A good beer not only quenches your thirst; it relaxes your senses and ignites your spirits. When you need a beer, quality, not quantity, counts. Beer is an acquired taste. Any beer must be consumed cold, preferably served in a chilled glass or mug. Usually, 1 mug or glass is sufficient for a verdict of its ranking. By the time you are tipsy, you have probably had too much and any liquid would almost taste the same.
Sternen Weizentrumpf was the latest addition to my list of favorites. I tried it for the first time 3 weeks ago. We just had a walk along the lake and stopped at a quaint little cafe for a drink. I decided I wanted a beer, since I was on holiday. My boyfriend, who usually prefers espresso, decided to join me in trying the draught beer they served. The first sip went down smoothly. Its mild wheat malt aroma and sweet banana zest was refreshing. That beer, accompanied by a view of the lake at summertime children playing happily, swans and ducks peacefully swimming about, occasionally dipping their heads under water and pointing their tails to the blue sky; made it a beautiful day. We had seconds and it was just as good as the first.
My first taste of beer was Tiger, at the legal age of 18. I worked in a restaurant which served Tiger and Heineken as its only alcoholic beverages. 90% of the foreign patrons preferred the local beer. Curiosity killed my teenage abstinence. Sorry to say, it tasted like bitter horse piss. No, I haven't tried any piss in my life but I imagined it might have tasted like that. My verdict changed when I was challenged to a full mug of Tiger beer on my 21st birthday. Honestly, the second mug was really quite nice although it still had a bitter aftertaste. After that, I simply lost count and had a wonderful time.
Each year after that, I added a new beer to my favorites' list. The one I had the most of was probably Heineken because it was commonly available and inexpensive. Similar to Tiger was its slight bitter finish. Hoegaarden and Erdinger are the 2 top favorites I could not decide between. I love the light and fresh citrusy taste of Hoegaarden Original White Ale which leaves a sweet, slightly spicy note. I also enjoy the refreshing fizziness and lovely wheat flavors of Erdinger Weibier Kristallklar. Coming up next is smooth, rich Kilkenny Irish Cream Ale. Somebody told me that Kilkenny was almost a full-calorie meal on its own (like Guinness Stout) so I limited myself to it.
Asahi and Sapporo are the best Japanese beers. Clean tastinge, almost like fresh water, with Sapporo slightly more flavorful. Qingdao Tsingtao Premium is similar in tropical lightness and a very effective thirst-quencher. I think I only tried San Miguel once & it made it to this list because of its tasty sweet dark malt aroma with a slightly dry ending.
There it is my favorite beers, for now. It may change soon, as I travel the world to discover more good beers.
Source:
1. America's Top 10 Favorite Beers – InvestorPlace
2. Butter vs. Oil: Which Is Better?
3. Best Beer – Brewmasters' Favorite Beers of 2015 – Thrillist

Image Credit
www.beersweetbeer.com