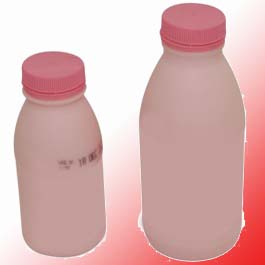 I love milk but as a rule don't like it flavoured, preferring the naturalness of it when on it's own.
On popping into our local garage shop to buy a magazine, I spotted this drink nestled in the fridge nearby to the magazine stand.
Bounty flavoured milk? Mmm…that sounds interesting I thought.
Being a fan of all things coconutty, I opened the fridge to investigate further.
What caught my eye immediately was the bottle. It's a blue and white colour (the same as on the chocolate bar wrapper) with pictures of palm trees, a beach, the sunny sky and of course not forgetting coconuts. There is an image of a coconut cut into two with the words Real Coconut.
This really looked liked something I would like, so took a bottle to the counter along with my magazine and decided I would try when I got home.
On opening the screw top lid, I was greeted with a real tropical aroma – you could certainly detect the coconut presence in this milk.
On pouring into a glass the appearance of the milk is a pale, chocolatey brown and quite thin and watery in consistency which surprised me as I thought it would be thick (like Frijj for instance).
The actual taste is just hard to put into words, it's really that good! Obviously if you don't like coconut you are not going to like this, but if you do your taste buds are certainly in for a treat.
The thing I noticed first on tasting the drink was it's not overly sweet. It gives off a sweeter smell than it tastes which is good as I thought it may be marred by a sugary taste.
As it's made using semi skimmed milk this needs to be kept in the refrigerator. I don't like drinks that are icy cold, so having taken it out of the cooling cabinet in the shop and walked the short distance to my home, I found that it was just the right temperature (still cool but not cold) for me to enjoy it.
I really like this drink but it seems hard to track down anywhere. I'm sure lots of places do stock it but so far I have only seen it in my local garage.
Another down side is the price. For a 388ml bottle it cost £1.59 so it will be more of a treat than a daily essential for me I think!
A few bits of general information –
Made with 5% real coconut
*No artificial colours or sweeteners
*Made with milk (no surprises as it's a flavoured milk!)
*192 calories per every 200ml serving
*Made by Mars – for more information contact www.drinkmars.com
*Suitable for vegetarians
My opinion~
This is a really nice milk drink that although appears to be on the thin side, it has a deliciously creamy texture. The coconut is subtle and not overpowering but enough to save this from being a plain run of the mill chocolate milk drink.
I love it!
Source:
1. Flavored milk
2. Does Eating Later Affect Weight Loss Efforts
3. Flavoured milk drinks – Tetra Pak

Image Credit
www.topnews.in