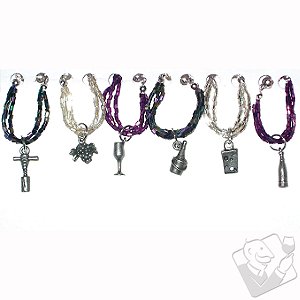 When you are choosing a gift for someone who happens to be a wine enthusiast then you can enjoy a wonderful shopping experience. Wine lovers appreciate fine wine and assorted accompaniments, as well as always learning more about wine, and enjoying the peripheries which go with the full wine experience.
A wine thermometer is an essential tool for the wine enthusiast and they come in a variety of types. Your friend may well have a traditional one but would be sure to appreciate a thermometer bottle collar from Varietals. A stainless steel cuff which wraps around the bottle reveals the wines temperature in minutes.
Good corkscrews and wine stoppers are a must have for wine buffs. You could opt for a corkscrew and stopper combination in a rosewood box, or choose a fantastic replica corkscrew from New Legacy which are crafted from bronze or pewter. They offer a bronze opener designed to be mounted on a table, beautifully styled with the addition of a grapevine design. The pewter opener is attached to a wooden stand and is the epitome of an elegant opener.
No wine enthusiast can be without Hugh Johnson's most respected tome, 'The World Atlas of Wine', the most recognized wine lover's reference guide. If your friend already has the book then opt for the smaller 'Pocket Wine guide' by Johnson, which the wine enthusiast can carry around on his wine tastings. Another must have is the renowned 'Sotheby's Wine Encyclopaedia' by Tom Stevenson, a wine writer who is acknowledge for his expertise and recognized by his three time award of wine writer of the year.
A really nifty gift would be the 'Wine Master Special Edition' which is actually a gadget in the form of a small electronic device which holds wine reviews from the 'Wine Enthusiast Magazine'. This is absolutely perfect for the wine enthusiast to take out to dinner to choose the right wine from the wine menu, or to take along on their wine hunting expeditions.
Those who appreciate fine wine often like to keep the corks as a reminder of special bottles they enjoyed, and there is a wonderful wine cork collection cage for them to relish. A stylish metal frame in the shape of a wine bottle is designed to store and display the cherished corks.
Gourmet foods and cheeses are another perfect gift to choose. You could order a wine gift basket from a myriad of sources, or make your own selection. If you aren't as much as a wine buff as your friend then follow the basic principle that strong cheeses go best with full bodied wines, whilst more delicate cheeses marry well with lighter wines.
Another good way to select cheeses is by region, so if your friend is a French wine enthusiast look for good French cheeses such as brie, Epoisses, Roquefort and Blue d'Auvergne.
Finally red wine enthusiasts will most likely savor the finest dark chocolates to accompany their wine, making for a healthy and indulgent combination. Dark chocolate covered coffee beans or plain truffles make for an excellent choice to accompany red wine.
There really is so much choice to gift to the wine enthusiast that you'll never be stumped for gift ideas. Of course the simplest choice of all is to buy a bottle of good wine.
Source:
1. Wine Gifts – Wine Enthusiast
2. Cookie Diets are a Recipe for Weight Loss
3. 24 Unique Gift Ideas for Wine Lovers | Bored Panda

Image Credit
s7d3.scene7.com