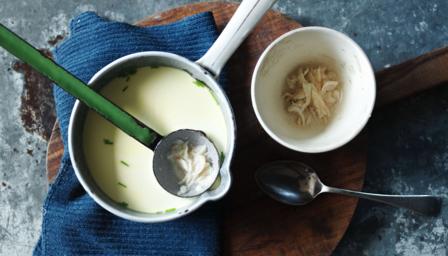 "Some hae meat that canna eat
And some wad eat that want it:
But we hae meat, and we can eat,
And sae the Lord be thankit."
This is the Scottish Covenanter's Grace that was said before meals in the reign of Queen Mary; in Scotland it can still be seen carved into the tops of doors in some of the older buildings. One of the dishes that the Scottish people would have been thanking God for would undoubtedly have been 'Cullen Skink'.
Cullen Skink is a delicious and traditional fish and potato soup that comes from the small coastal town of Cullen in Moray on the northeastern Scottish coastline. The word "Skink" is a Scottish word for soup that was originally from a shin of beef – the 'skink' of beef; with Cullen Skink however the beef is replaced by Finnan Haddie, better known to most people as smoked haddock. Finnan Haddie got its name as it was originally the haddock caught in the Aberdeen town of Findon, or Finnan, and smoked there; now it tends to be a generic word for smoked haddock for many people, especially of the older generation.
The recipe that I use for this soup, while still being traditional, omits cream and butter making it a low fat soup and perfect for people watching their weight or keeping to a low fat diet. These omissions do not deter from the lovely taste of the soup.
I would stress the importance of natural smoked fish for this dish and not the artificially coloured yellow fish that we see so often in the supermarket or fishmongers.
LOW FAT CULLEN SKINK
Serves four people
INGREDIENTS
1 fillet of natural smoked haddock
Water to cover
1 Onion peeled and chopped
900ml skimmed milk
225g mashed potato
Salt (if needed) and freshly ground black pepper
1 tablespoon chopped fresh parsley
METHOD
Place the haddock in a large frying pan (skillet), skin side down, so that it is just covered with cold water. Bring to the boil, and allow it to simmer for around 7 minutes or until the fish is just cooked. Take the fish from the pan; carefully remove all the skin and bones. Flake the fish and put in a saucepan the water from cooking it and the chopped onion. Taste and adjust seasoning (you may find that only pepper is required because of the saltiness of the fish), simmer for thirty minutes. Strain reserving both the stock and the fish. Add the milk to the fish stock and then add enough mashed potato to make your preferred consistency. Add the fish, reheat and check again for seasoning. Serve sprinkled with the parsley.
This dish makes a hearty and filling soup and with soup crusty bread makes a wonderful lunch dish, especially on a cold winter's day.
Source:
1. Cullen skink
2. Hardgainer Meal Plan to Gain Weight
3. Cullen Skink | BBC Good Food

Image Credit
ichef.bbci.co.uk